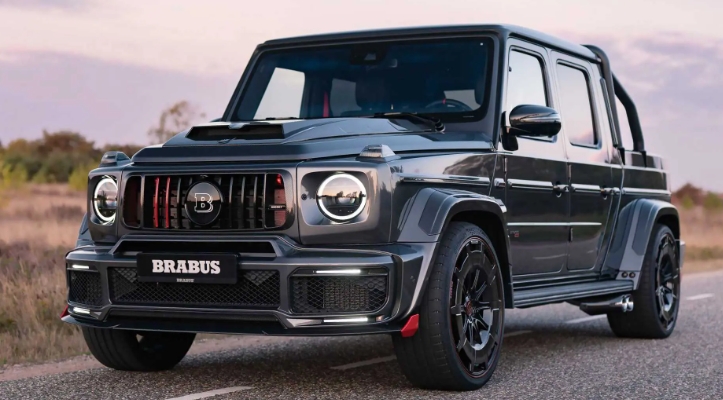 Brabus Reveals Upgraded Mercedes-AMG G63: Off-Road Became A 900-HP Pickup
Tuning company Brabus has unveiled its new project P 900 Rocket Edition 2022. This is a modified Mercedes-AMG G63, but the SUV has changed a lot.
The tuners installed a 4.5-liter twin-turbo V8 engine under the hood of the truck. Recall that the production version uses a 4-liter power unit. Specialists increased the diameter and stroke of the engine, as well as installed new forged pistons and a special crankshaft. In addition, there is another exhaust system that reproduces the excellent sound of a powerful engine. It is also worth saying that Brabus has improved the turbochargers and reconfigured the control unit. Thus, the novelty develops 900 horsepower. This is 315 "horses" more than the factory version.
The torque of the motor reaches 1050 N * m. As for the top speed, it is electronically limited to 280 km/h. The pickup truck weighs 2720 kilograms, but the powerful power unit allows the car to accelerate to the first "hundred" in 3.7 seconds. It is worth saying that Brabus built the P 900 on the basis of its other project – XLB. This is also a modernized G63.
The car uses a steel body frame and carbon sidewalls. In addition, they added a special package that expands the model by 10 centimeters. As for external changes, the German specialists installed a new hood, front and rear fender extensions, a different diffuser, a front spoiler and some other new items. Separately, we note the 24-inch Brabus Monoblock Z Platinum Edition wheels. The body of the model can be painted in any color. In total, 10 copies of this amazing pickup truck will be built. Its starting price is 649,638 euros.