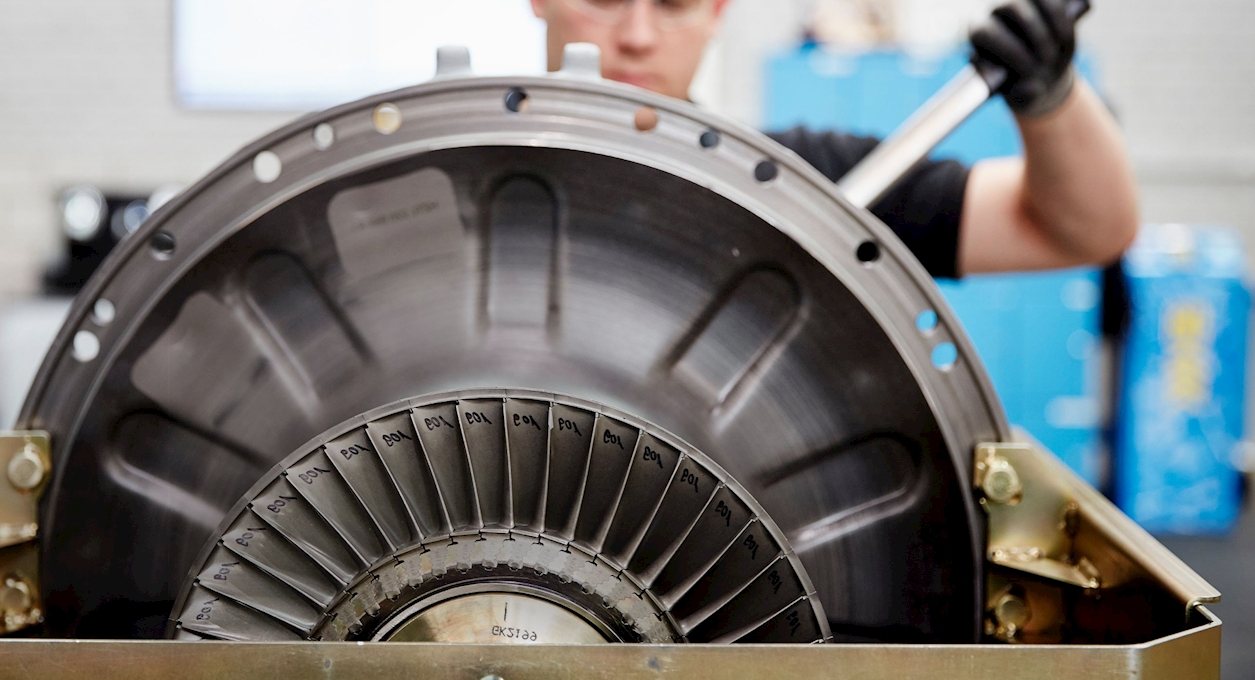 "Turbochargers will be even more important in a climate-neutral world" – Podcast with Daniel Bischofberger from Accelleron
In the latest episode of the ABB Decoded podcast, Daniel Bischofberger, CEO of Accelleron (formerly ABB Turbocharging), discusses the critical role of turbocharging in a transforming energy economy. Bischofberger explains the great importance of turbochargers for fuel savings and emission reductions. In addition, he talks about the future role of turbochargers in connection with sustainable fuels.
Turbochargers are often associated with noisy and polluting internal combustion engines. In fact, however, they help make these engines far more efficient. In the latest episode of the ABB Decoded podcast, Daniel Bischofberger, CEO of Accelleron (formerly ABB Turbocharging), explains how turbocharging is accelerating the sustainable transformation of industry.
Accelleron turbochargers are used in demanding segments such as marine, electric power, off-highway and locomotive. "Turbochargers act as fans for the engine," says Bischofberger. A turbocharged internal combustion engine delivers four times the power. At the same time, CO2 emissions are reduced by 10 percent, nitrogen oxide emissions (NOx) by 60 percent and efficiency increases by 10 percent. As an example, Bischofberger cites a ship that, with the help of Accelleron turbochargers, was able to reduce fuel consumption by 200 tons and CO2 emissions by 620 tons per year.
In view of the increasing urgency of climate protection, according to Bischofberger, turbochargers will continue to play an important role in the industry. In the decarbonization of shipping, turbochargers can make a significant contribution to increasing engine efficiency and thus reducing fuel consumption. With the increasing availability of sustainable fuels, efficiency gains become more important as these fuels will initially be more expensive than fossil fuels.
Bischofberger goes on to say that electricity generation from renewable energy sources must be significantly expanded for the complete energy transition in the electricity sector. "The challenge lies in the sheer volume of sustainable energy required," says Bischofberger, adding that grid stability is also a challenge given the volatility of solar and wind power. He also explains how green fuel thermal power plants can be used to provide peak power backup and avoid potential disruptions. Turbochargers will ensure efficiency and thereby reduce environmental impact.
"Many people mistakenly assume that a climate-neutral world and internal combustion engines do not go together. It may come as a surprise, but in a net-zero world, high-performance turbochargers will be even more important in the marine and energy sectors."
Accelleron produces around 10,000 turbochargers a year and, with more than 600 service technicians worldwide, maintains over 100,000 of these devices a year. The worldwide service network ensures reliability, which is of particular importance in mission-critical applications.
Bischofberger also details Accelleron's advanced digital solutions that help customers optimize engine performance, reduce fuel consumption, and monitor and predict ship emissions.