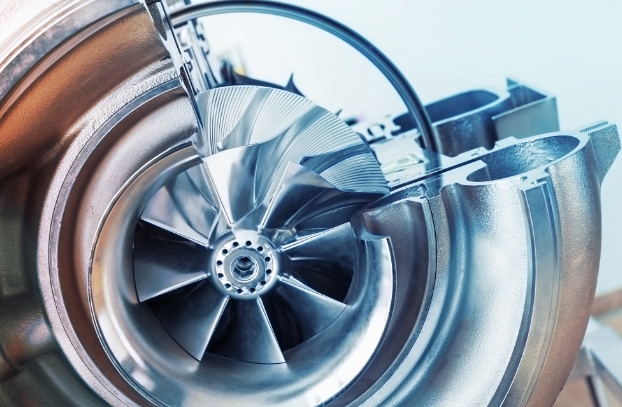 Pioneering Advancements in Sliding Contact Bearings for Automotive Turbochargers
The automotive industry is a hub of relentless innovation, fueled by stringent emission standards that emphasize fuel efficiency and the rising significance of cutting-edge technologies like electric turbochargers (e-turbos), wastegate turbochargers, and geometry turbochargers. A recent report by GlobalData on Innovation in Automotive: Turbocharger Sliding Contact Bearings reveals that the industry has witnessed a staggering number of patents filed and granted, surpassing 1.2 million in just the past three years.
Innovation in various fields does not progress in a linear fashion; instead, it follows a pattern resembling an S-shaped curve that represents its lifecycle. This curve signifies the stages of early emergence, rapid adoption, and eventual stabilization and maturity. Recognizing the position of a specific innovation along this journey, particularly those in the emerging and accelerating stages, is crucial for gauging its current level of adoption and predicting its future trajectory and impact. Understanding these dynamics helps to anticipate the potential outcomes and implications of the innovation.
290+ innovations will shape the automotive industry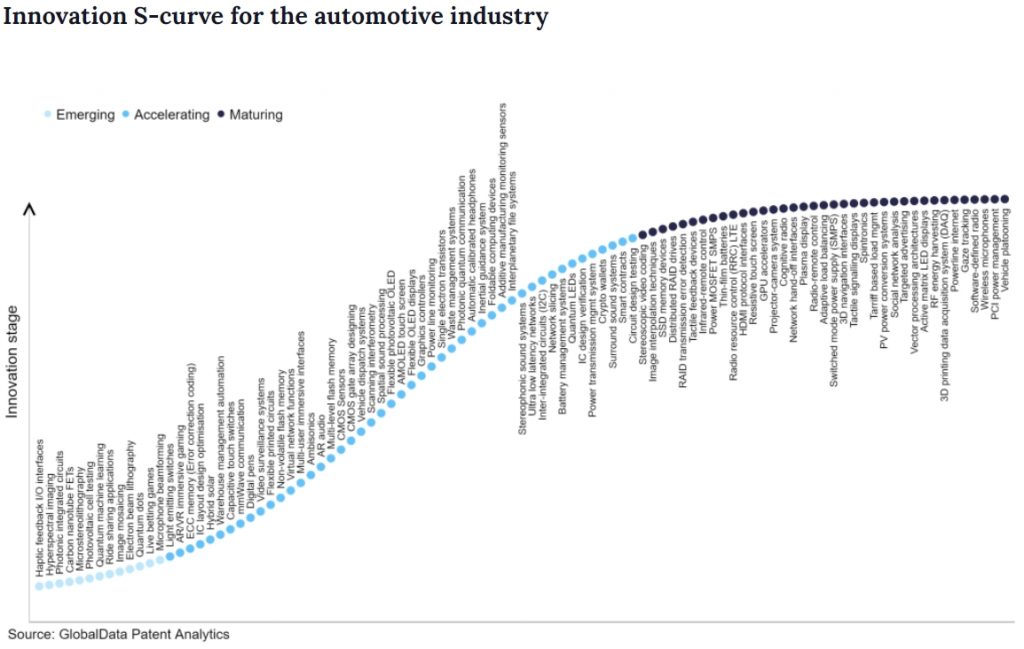 GlobalData's Technology Foresights provides valuable insights into the innovation landscape of the automotive industry by mapping the S-curve based on innovation intensity models that analyze over 619,000 patents. This analysis reveals over 290 innovation areas that will play a pivotal role in shaping the future of the industry. In the emerging stage of innovation, notable disruptive technologies such as resilient spoke wheels, auto-transmission lubrication circuits, and ignition switching engines are gaining traction and warrant close monitoring. Within the accelerating stage, innovation areas like engine purge actuators, electro-dynamic braking, and adsorptive vapor recovery system estimation are experiencing increasing adoption. Meanwhile, collision avoidance braking control systems and direct injection type engines fall under the maturing innovation areas, having become well-established in the industry. By identifying and tracking these different innovation stages, stakeholders can stay informed about the latest advancements and anticipate the potential impact they will have on the automotive industry.
Turbocharger sliding contact bearings is a key innovation area in automotive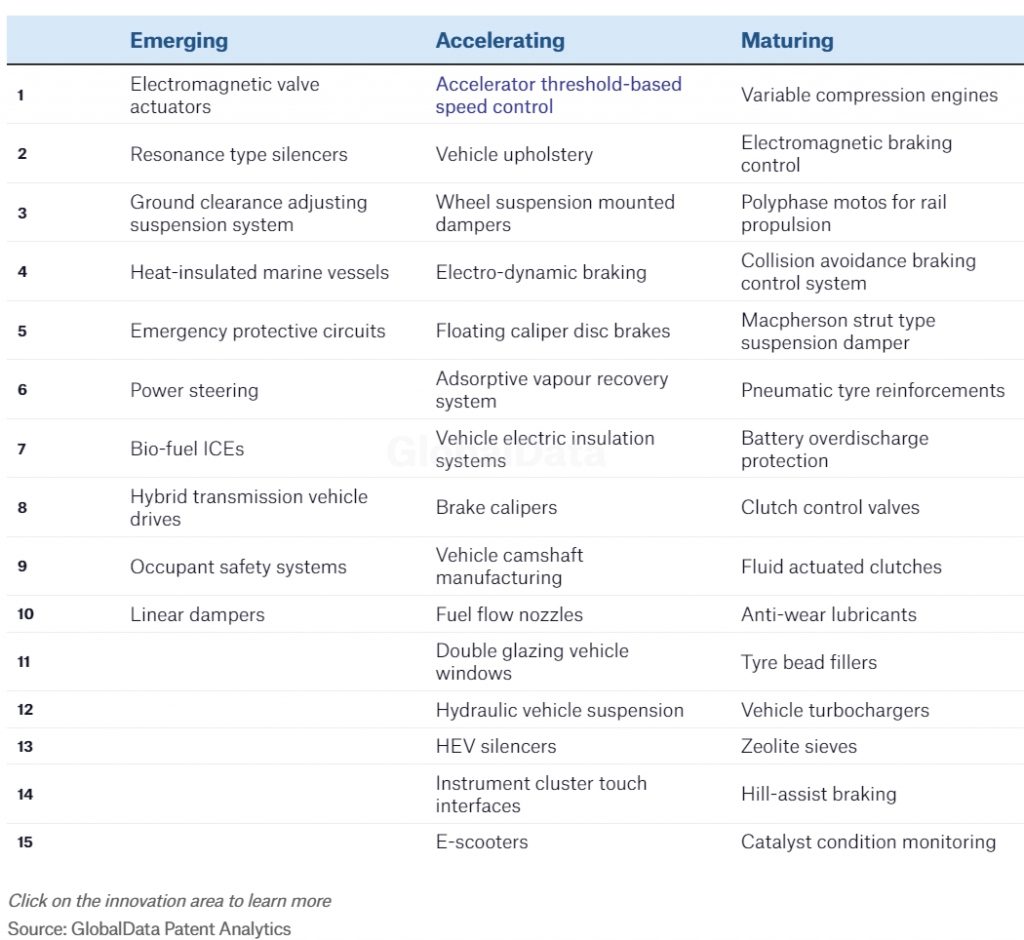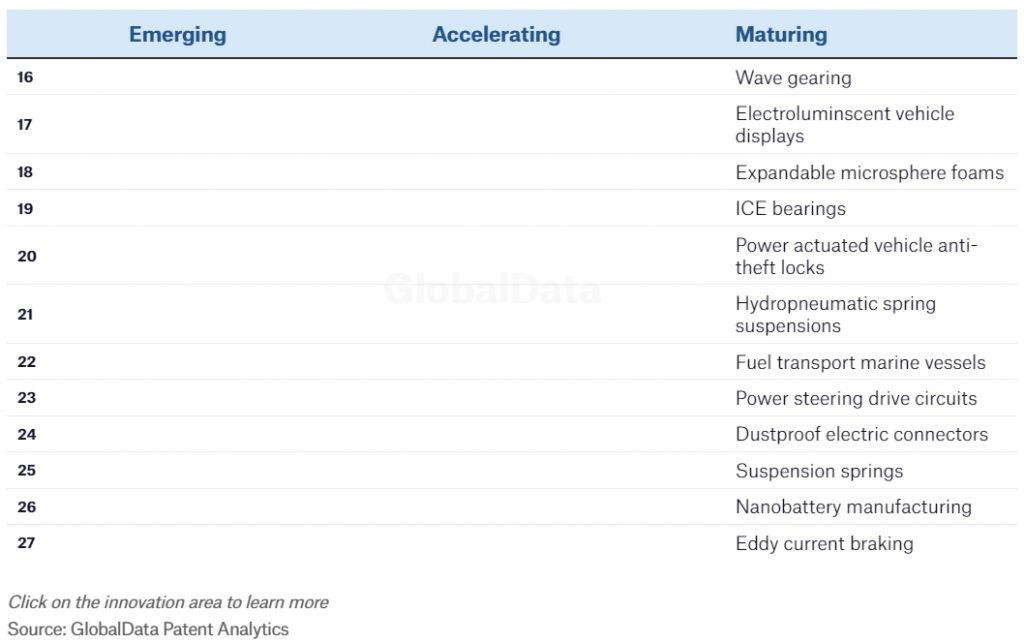 With the demand for improved engine efficiency in newer engines, there is a growing need for higher efficiencies in turbocharger sliding contact bearings. One way to achieve these efficiencies is by reducing losses in the bearing system. The advancement of turbocharger bearing systems is driven by the requirements for lower engine emissions and fuel consumption. In the modern turbocharger bearing landscape, there are two primary categories: ball bearing systems and hydrodynamic journal bearing systems. These technologies offer enhanced performance and reliability. Additionally, there are promising alternatives in the form of foil air bearings and active magnetic bearings, which have the potential to further enhance the capabilities of turbocharger systems. These innovative bearing technologies are being explored to meet the evolving demands of the automotive industry.
GlobalData's analysis not only identifies the key innovation areas in the automotive industry but also sheds light on the leading companies driving these advancements in turbocharger sliding contact bearings. Their research assesses the potential scope and influence of these companies' patenting activities across various applications and geographic regions. Within the realm of turbocharger sliding contact bearings, GlobalData has identified over 10 companies actively involved in their development and application. These companies encompass a range of stakeholders, including technology vendors, established automotive manufacturers, and emerging start-ups. Their collective efforts contribute to pushing the boundaries of turbocharger technology and enhancing the performance of automotive engines.
Key players in turbocharger sliding contact bearings – a disruptive innovation in the automotive industry
The concept of "application diversity" examines the range of different applications associated with each relevant patent, categorizing companies as either "niche" or "diversified" innovators based on this measure. It provides insights into the extent to which companies focus on specific application areas versus exploring a broader range of applications. On the other hand, "geographic reach" assesses the number of countries where each relevant patent is registered, indicating the intended scope of geographic application. This scale ranges from "global," indicating a widespread application across multiple countries, to "local," suggesting a more limited geographic focus. These metrics provide valuable information about the strategic orientation and market reach of companies involved in turbocharger sliding contact bearings innovation.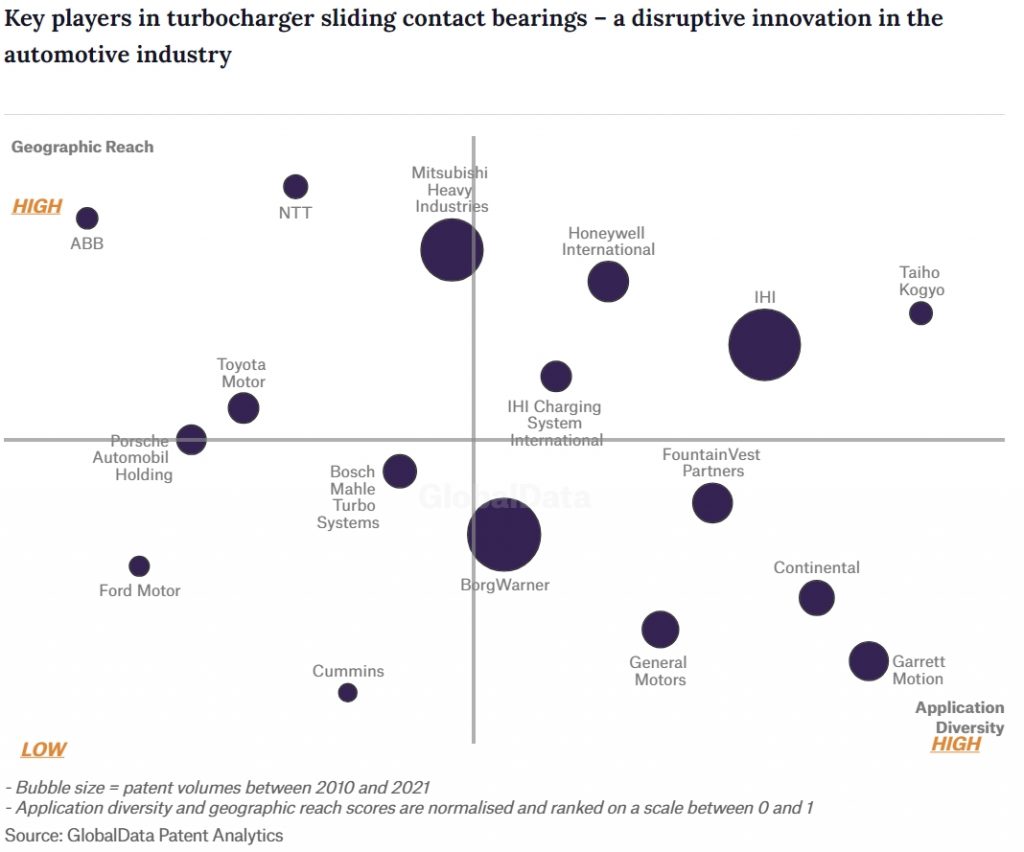 BorgWarner is a prominent player in the field of turbocharger sliding contact bearings and has made significant innovations with 90 filed patents. Their product lineup for light vehicles includes the regulated two-stage turbocharging system as well as the advanced turbine geometry (VTG) turbocharger sliding contact bearings. These VTG turbochargers offer precise adjustments tailored to the specific engine operating conditions. They feature adjustable vanes that are electrically actuated, enabling effective pressure regulation upstream of the turbine. This design provides quick acceleration response and optimal power output. ABB, Toyota, and NTT are also noteworthy companies actively involved in innovating within this technology domain.